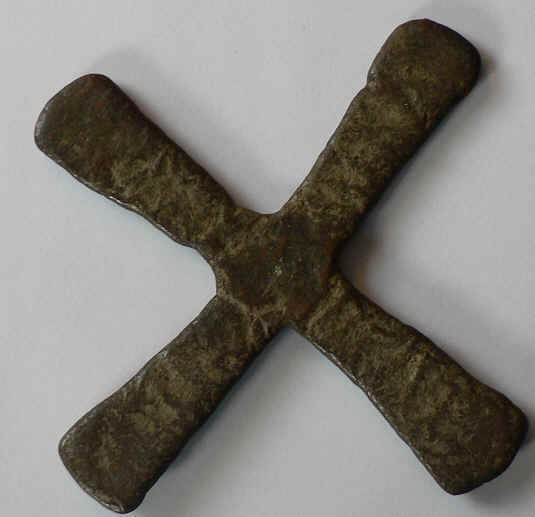 A Katanga cross, also called a handa, is a cast copper cross which was once used as a form of currency in parts of what is now the Democratic Republic of the Congo (DRC) in the 19th and early 20th centuries. Katanga crosses were made in various sizes, typically about 20 cm (8 inches) across, and weighing about 1 kilogram (2 pounds). The name derives from Katanga, a rich copper mining region in the south-eastern portion of the DRC.[1] These X-shaped ingots were cast by local coppersmiths by pouring molten copper into sand molds.(http://en.wikipedia.org/wiki/Katanga_Cross)
This X-shaped ingot of cast copper, usually referred to as a Katanga Cross, comes from Katanga, a rich mining region in the south-eastern portion of the Democratic Republic of Congo (formerly Zaire) along the Kasai River. It is the classic currency associated with the region and probably the best known form of African tribal currency. For centuries these crosses served as indications of wealth and were used for dowry payments and trade. Since they have been found in burial sites, they have also been associated with funerary rituals.
The Congolese regarded the non-ferrous metals -- copper, lead, and tin -- as very precious materials. Objects made of these metals were a widespread means of exchange and important in settling social contracts, such as marriage. Early in the 20th century, one cross might purchase five to six chickens, two lengths of good fabric, eight to nine pounds of rubber, or six axes.
The Katanga Cross is one of the most famous (perhaps infamous) of the primitive monies. In the shape of a St.Andrew's Cross, the Katanga Cross is one of the most famous of all African primitive monies. Made in the rich copper mining district of Katanga in the Southern Congo Basin, these Crosses circulated extensively throughout Africa, and are renowned as being the preferred "Wife Buying" currency of the Congo. This large heavy piece is 7 5/8" x 7 1/2" and is an outstanding specimen of this famous "Odd and Curious" Primitive Money.
526 gram, ca 18 cm breed
ebay, 11 nov 2011, US $85,00 (EUR 63,85), jetonex88